STUDY WITH JEN THIS SUMMER! CONTACT THE SCHOOL DIRECTLY TO REGISTER.
June 7-9, 2019
Hand-Cut Stencils for Surface Design
John C. Campbell Folk School, Brasstown, NC
With just a craft knife and a self-healing mat, we will hand-cut paper in a variety of motifs, patterns, and imagery, from basic to elaborate. By stacking and cutting layers of paper together, we will build mirrored images, multiple templates, and snowflake-style symmetrical compositions. We will use these papercuts as stencils for direct surface design application such as spray painting, dye resist, and sewn appliqué. Stencil materials include tyvek, acetate, construction paper, and freezer paper. While the cutting can be meticulous, the surface design is more improvisational with the opportunity to layer and arrange intricate patterns together spontaneously.

June 9-15, 2019
Screen Printing on Fabric
John C. Campbell Folk School, Brasstown, NC
From improvisational compositions to intricate design, screen printing is infinitely versatile and tons of fun. We'll start by creating stencils on the screen with low tech methods: harvesting found texture rubbings, painting and hand-cutting paper stencils, utilizing grocery store materials, then move on to exposing photo emulsion film to create finely detailed screen imagery. Meanwhile, we will compose on the print table to explore composition, implied pattern, and repeat design, layering prints into rich surfaces on clothing and fabric. Bring plenty of t-shirts and items from home that could use some new spark, along with your own energy and ideas.

June 29-30, 2019
Low-Tech Screen Printing
Local Cloth, Asheville, NC
Unlock the mysteries of screen printing with simple, immediate, low-tech processes to print anything from t-shirts to fine scarves, from paper cards to fabric yardage. We will design a range of stencils to print through screens including: painting with screen filler and drawing fluid, rubbing textures with wax, cutting shelf paper, and more. Printing media will focus primarily on water-soluble textile inks, but we will also review processes to thicken dyes and color removers. Let me show you lots of techniques and tricks to take back home and keep on printing on your own!
July 13, 2019
Shibori-Dyed Silk Scarf
Blowing Rock Art & History Museum, Blowing Rock, NC
details coming soon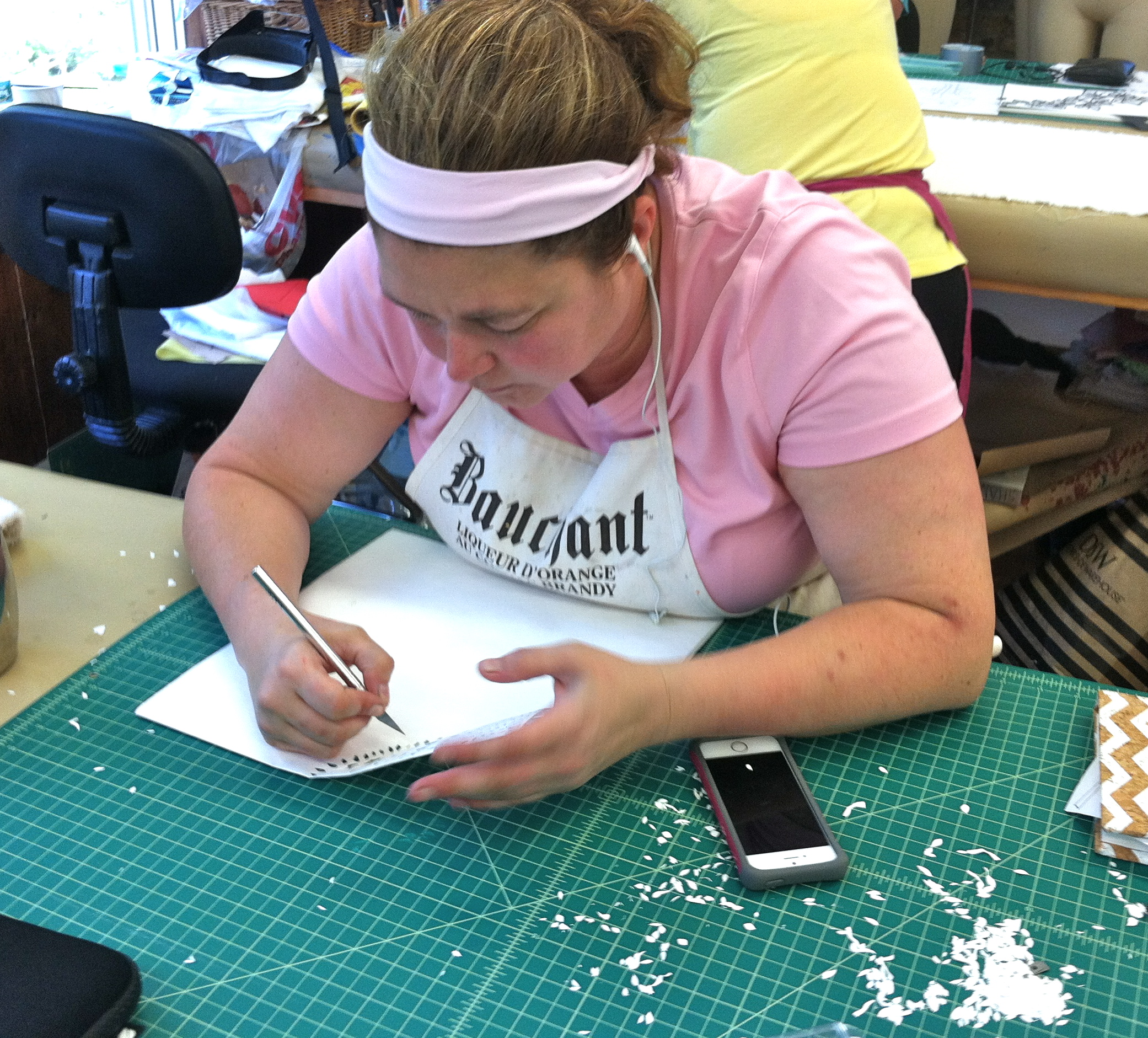 Photos from Jen's 2014 2-week screen printing workshop at Penland School of Crafts.
Jen Swearington is available to teach, lecture, consult, and create as a visiting artist or art resident in an educational setting. Her workshop topics include fashion design and sewing, surface design including shibori and screen printing, and related art-making processes such as paper cutting, book arts, and mixed media. Contact us for more information.
Jen Swearington has crafted a creative living since 2003, operating Jennythreads, an independent handmade fashion studio near Asheville, North Carolina. She is the author of Printing on Fabric: Techniques with Screens, Stencils, Inks, and Dyes published by Lark Crafts, has exhibited in Quilt National three times, is a former Arrowmont Resident Artist, and current member of the Southern Highland Craft Guild. She has taught at the Savannah College of Art and Design, Arrowmont School of Arts and Crafts, Penland School of Crafts, and Haywood Community College.